Our Campaign to get "15 Days" Completed...
And where you can find us on March 29
Dana and I are "off" this week for our children's mid-winter break, so we wanted to take this opportunity to relaunch our GiveSendGo campaign to get our docuseries completed. Please support us if you can (all donations are tax-deductible).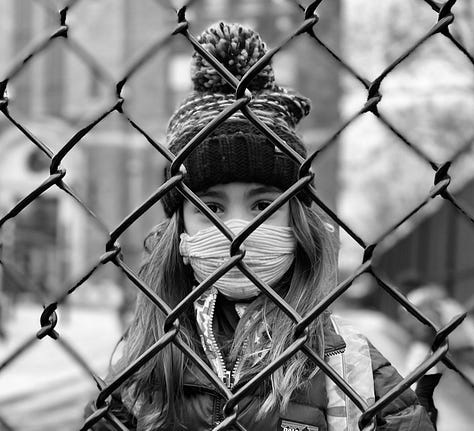 Filming began in April 2022 and continues today. We have been so fortunate to have been meeting amazing people from New York to California to Austin to Virginia, trying to preserve as many stories as we can.
Next, we are off to Washington D.C. —(more on that below).  
Our fiercely talented filmmaker Stephanie Edmonds, an early open schools advocate and former NYC public school teacher, founded Teachers4OpenSchools and ultimately lost her job due to NYC's vaccine mandate.
The City's loss was our gain!
Working with Stephanie has been a revelation. We began with our short video collaboration, The Mask Will Come off Tomorrow, pointing out the hypocrisy of masking children, which went viral on social media and even inspired others to make similar videos.
Later, we continued work with our docuseries. Together and on camera, we have interviewed so many public health experts, mental healthcare workers, education policy experts, lawyers, journalists, parents, coaches, student athletes and, of course, children.
Their stories are both original and also eerily similar. Children's lives were forever altered when schools shut down and the world closed to them and stayed closed longer than for adults, who returned to normal, unmasked, social life. Deeply problematic, politically-based policies implemented during the pandemic will forever alter the course of millions of children's lives. Children are experiencing alarming rates of mental illness, are more addicted to technology, less physically fit and and are the least healthy and free generation ever.
"15 Days..." Our eight-part docuseries focuses on the impact of America's school closures on children. We explore the role of the media, doctors/public health, how children's health and schooling became politicized, the teachers unions, kids' declining mental health, awakening of American parents and how "cancel culture" and the silencing of dissent has contributed to this crisis.
We believe that it is our duty to make sure this never happens again. And one of the ways we are working towards this goal is to preserve as many stories as we can.
If you would like to support us, you can do so in a number of ways- upgrade your subscription to "Paid" or donate via the GiveSendGo link above. Thank you!
Natalya and Dana
---
More about Washington D.C.
On March 29, our team will be joining Justin Hart, Jenny Erikson & Rational Ground for an important event in Washington D.C. We will be meeting face-to-face with congressional members and senators so they can hear our stories as they work on legislation and develop their agendas for upcoming hearings. We are coming with our kids and hope you will consider joining us - tickets are available here.
We will be recording the event for our docuseries. We hope you can join us! If you are planning to come, please let us know by commenting here!